I am not a blogger. I don't make political posts or comment through my business web pages, or through the insignificant medium of the magazines I publish. That's more or less saved for Facebook likes and occasional comments on other blogs and websites. You may be able to deduce my views and you may agree or disagree with some of them, but most of the time my political views are not why I'm here and certainly not why I publish.
This month, however, there's something which is bigger than politics although it feels exactly like politics to some people, and that is the Scottish Referendum on Independence. It's fair to say that even before we moved to Scotland 26 years ago I would have favoured Scottish independence. Now I'm worried that this simply won't happen, despite a general consensus that the broad political mix presided over by the SNP at Holyrood has proved to be intellectually and morally superior to Westminster's two houses.
I've spent time observing the Yes and No campaigns, which voters they affect, and how they affect them. I have friends and neighbours who will vote No, and perhaps rather more who will vote Yes… because so many of my friends are anarchic, exuberant, hopeful dreamers and imaginative thinkers. They are doers, builders, creators and agents of change. They want to live in 'interesting times'. Independence, if it comes, will energise them whether they are teenagers or pensioners.
And these are exactly the kind of people that the No campaign lacks any connection with. My observation is that the No campaign – if not all No voters, many of whom are merely undecided and apprehensive bystanders – is vehemently conservative, patronising, patriarchal, anti-creative and firmly committed to preserving the status quo.
So today I took a small camera out for a short drive. I had seen what I considered to be a most offensive (and equally expensive) weatherproof banner appearing along roads bordering farmland. I wanted to photograph this. It says everything you need to know about how the landowners (mostly sitting in the Westminster House of Lords) and their tenants (unable to hold any opinion of their own) and perhaps their workers (ditto) view Scotland and Scots people.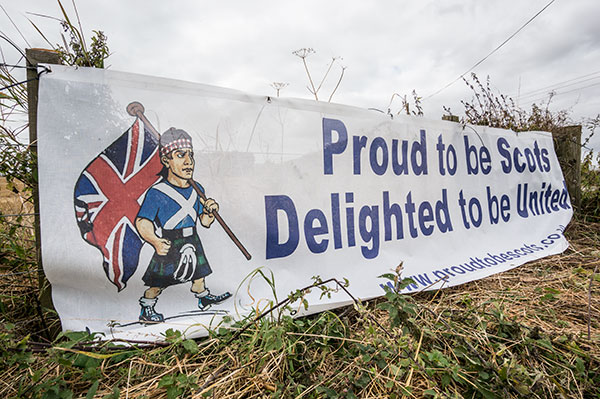 This may be a major graphic design fail, but someone actually had to brief the unfortunate would-be artist on exactly what this strangely mis-shapen and aggressively-puzzled frowning figure should look like.
Now I just don't think I would LIKE the committee, or individual, who instigated and approved this icon for a United Kingdom seen from a (subordinate and maybe subservient?) Scots 'loyal' perspective.
The farming community in the Borders, despite the vast amount it loses under the present handling of EU support through a Westminster government which favours English farming to a manifold degree, is entirely in the pocket of old money and old ideas. Fortunately this is not how most Scots see themselves or their relationship with England, or their part in the UK. I'm sure this particular banner is firming up the resolve of Yes voters.
There are many more large placards in farm fields. You won't see many, if any, Yes art-installations (give or take a few badly defaced No examples, which are no credit to the spraypaint skills of the Yes partisans involved).
This double poster visible from the passing bus is not a minor undertaking for anyone except a farmer with all the materials, land and labour needed to erect it. This is a pretty substantial temporary advertising hoarding.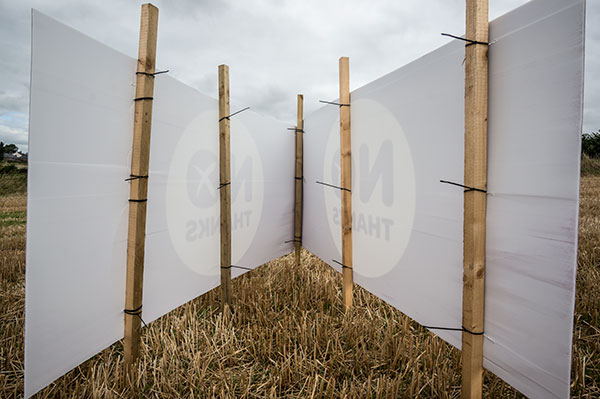 And just down the farm road from the corner where the 'delighted to be united' banner is fixed, a little too far away to get into a single image with any effect, is a sign which helps us understand where all this is coming from.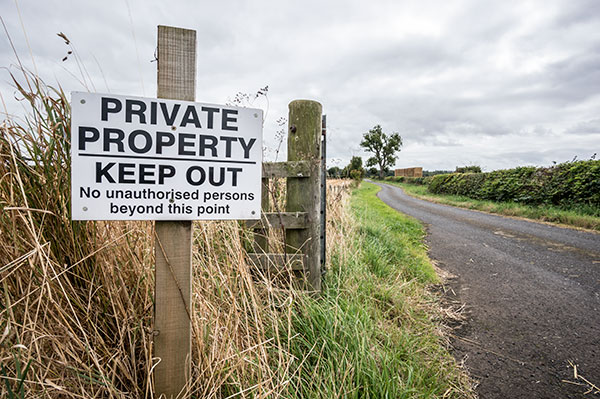 In Heiton, there were both Yes and No placards and stickers on display.
I was not trying to find just the No posters. I wanted to see how many Yes and No examples I saw, taking the road to get to this poster (from Kelso through Heiton, Border country not far from England, in an area with a great mixture of locals, Scots from all over Scotland, English and much welcomed folk from Europe and the wider world).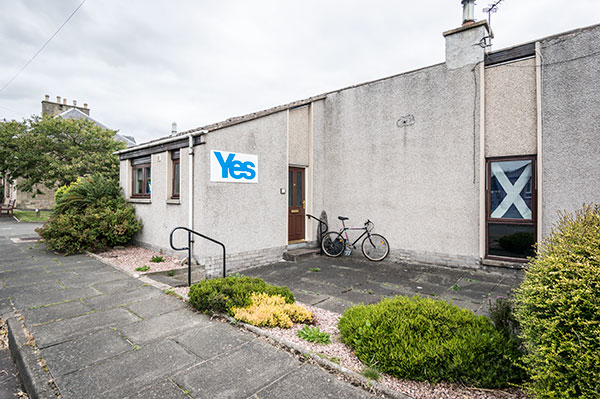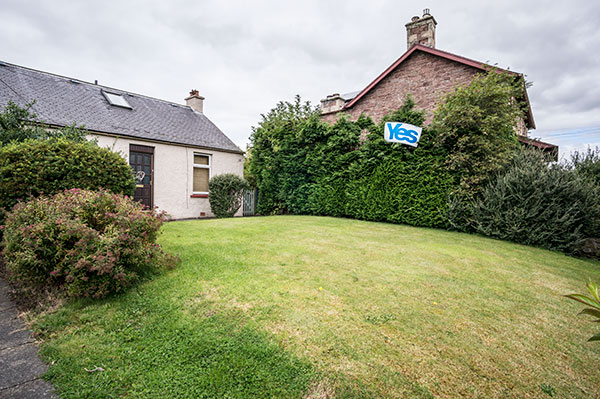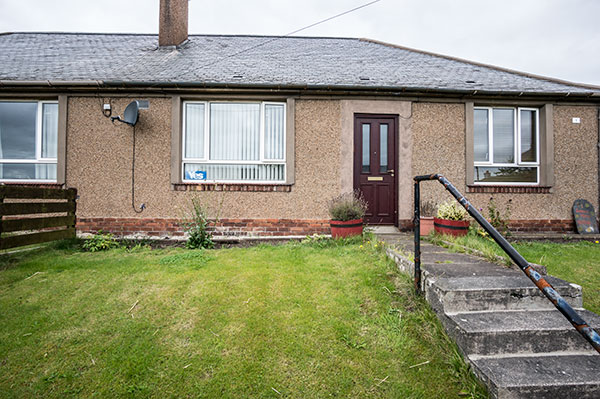 If you think that Yes affirmations are rarely as big as the No campaign, No stickers in windows can be even smaller. I don't think this is necessarily because the No voters are frightened of a stone through the window or a scratch on the car – certainly no more so than the other way round, and in this civilised patch of Scotland, unlikely. I certainly would not put a Yes (or No) sticker on my car and park it in Edinburgh or Glasgow.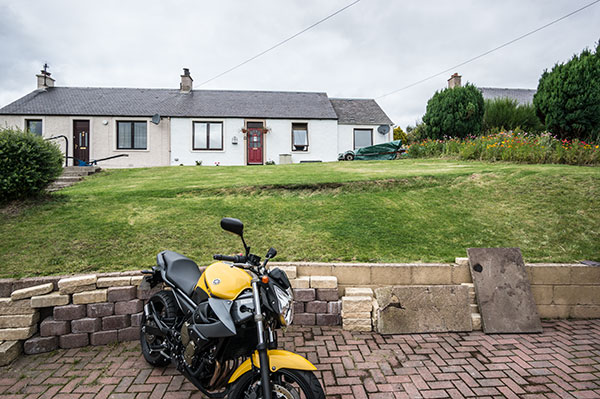 That's a very small No in the house door.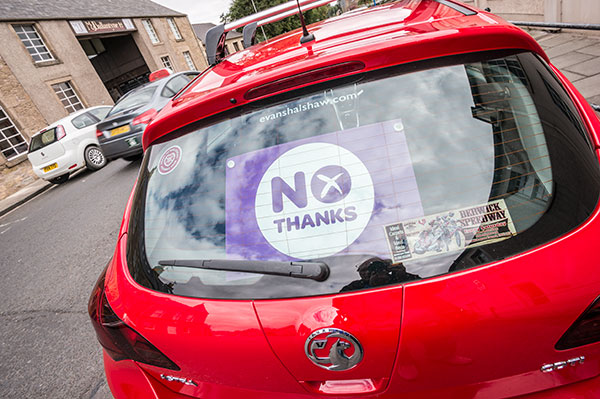 In Kelso, that's a pretty big No in the car window. Hopefully, it's removed when driving, as it would be terrible for the police to appear to be partisan by asking the driver to stop and remove the obstruction to rear vision!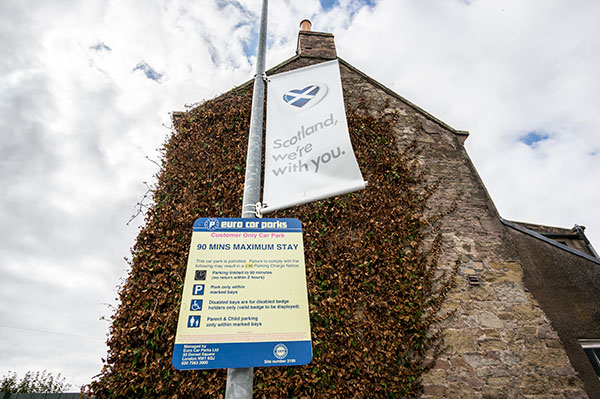 And then we do get subliminal messages – LIDL may be European, but in Scotland, it's very Scottish (except for the car park fines).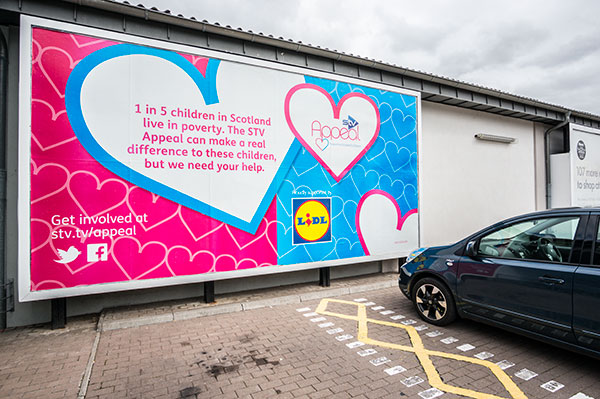 You might also suggest that this huge charity sponsorship poster indicates some kind of commitment to social change. It's good thing that Kelso's bourgeoisie is just as likely to be found loading the Land Rover at LIDL as at Sainsbury's. If there's one thing the Yes/No issue isn't, it's a class thing or an income-group thing or a Scoticity (ethnicity…) thing. Except, of course, that small farming issue of lairds, land and labour which appears to distort the balance to anyone driving through the Scottish countryside.
But this should not  let you think that Scotland is the egalitarian, balanced society some media would have you believe – that a vote for Yes will automatically create some Nordic-style levelling of wealth and opportunity. Near the purple No sign, beyond the Duke of Roxburghe's eponymous hotel and golf course, lies a 'village' created to be permanent or rented mansion-style housing for golfers, called Sunlaws (the old name of the hotel and estate). This is a remarkable example of how a local architectural style – the four-square neo-Palladian, post-Adam Georgian villa or farmhouse which Sir Walter Scott so much disliked and thought vulgar and modern back in 1820 – can be used inappropriately.
In Scott's day such houses, which do indeed exist in the Borders in their original form, generally sat alone at the heart of a farm estate, or in gardens in the centre of towns. They didn't sit in groups, even though housing estates and developments were every bit as popular 200 years ago (just look at Edinburgh's New Town, or any of the Border towns).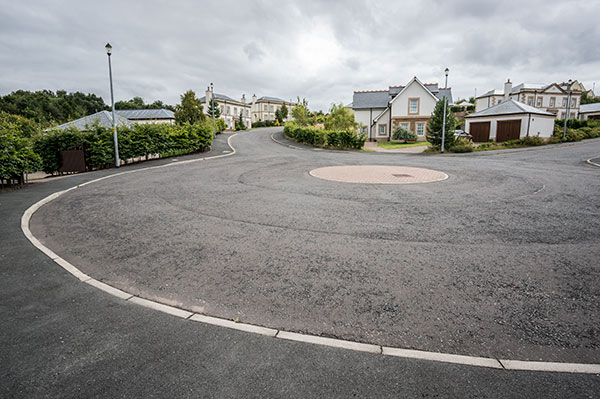 Even the roadway is on an unusual scale, with this three-lane wide turning circle at the foot of the estate. I saw no Yes or No stickers in Sunlaws, just an impressive showcase of executive cars – because this place has no services, no shops, no school, and is totally dependent on car ownership.
In contrast, I'll show you this. This was the old Kelso allotment, owned by a committee which discovered it was worth enough to fund their pensions comfortably if sold for housing.
The allotments were behind LIDL – my view is, in effect from where the wooden fence is now. And these houses were finished a few weeks ago, with families moving in just before the schools went back.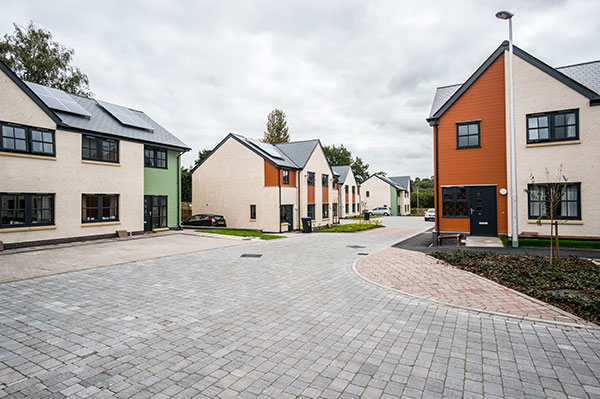 They make an interesting contrast to Sunlaws – in no less attractive a position (the River Tweed is 100 metres beyond the furthest house you see here) but a mix of social rented and affordable private housing. "I've been told that single mothers have got the keys to some of them", an informed local told me. Indeed, they have, and I spoke briefly to one young mum who had just moved in, agreeing on what a lovely place she had been lucky enough to secure, and how much space there was (wide parking drives, and a park-like fallow field left undeveloped). And it's two minutes to LIDL, three minutes to the town centre, on foot.
I saw no Yes or No signs here – but I imagine if you could read the thoughts of the burghers of Sunlaws (who have seen their house prices fall, much the same as at the 'Disney village' of Cardrona next to another golf course near Peebles) you'd spot very few Yes flags… and here, probably not that many No banners.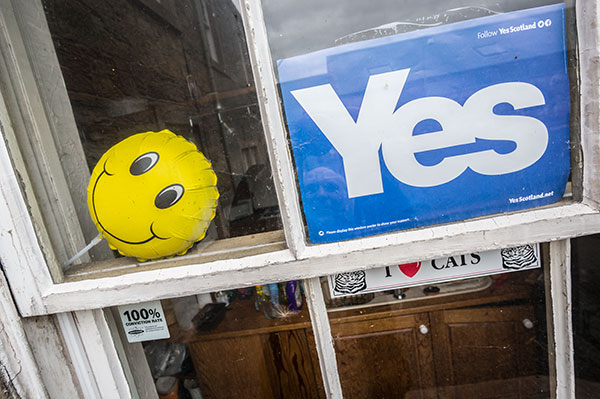 As for me, Shirley and the cats we remain optimistic. There's still a chance of a bright future for Scotland as the Yes campaign remains forward-looking, imaginative and willing to take some risk for the sake of the future. The No campaign continues to rely on fears and doubts, to sow seeds of uncertainty; there is a nasty undercurrent promoting the guilty feeling that if you vot e Yes, you are somehow Against England, or Against the UK, rather than Pro Scotland.
It is worth saying that most of this polarisation would have been defused completely by the inclusion of the Devo Max option in the referendum vote. Every conversation I've had with supporters of both sides indicates that full devolution without statehood would have attracted a firm majority vote. That option was in effect vetoed by David Cameron in person; divide and rule, rather than face the loss of control over an undivided Scotland.
The last word? Well, I couldn't resist making a small change to that awful 'delighted to be united' banner… if only in Photoshop!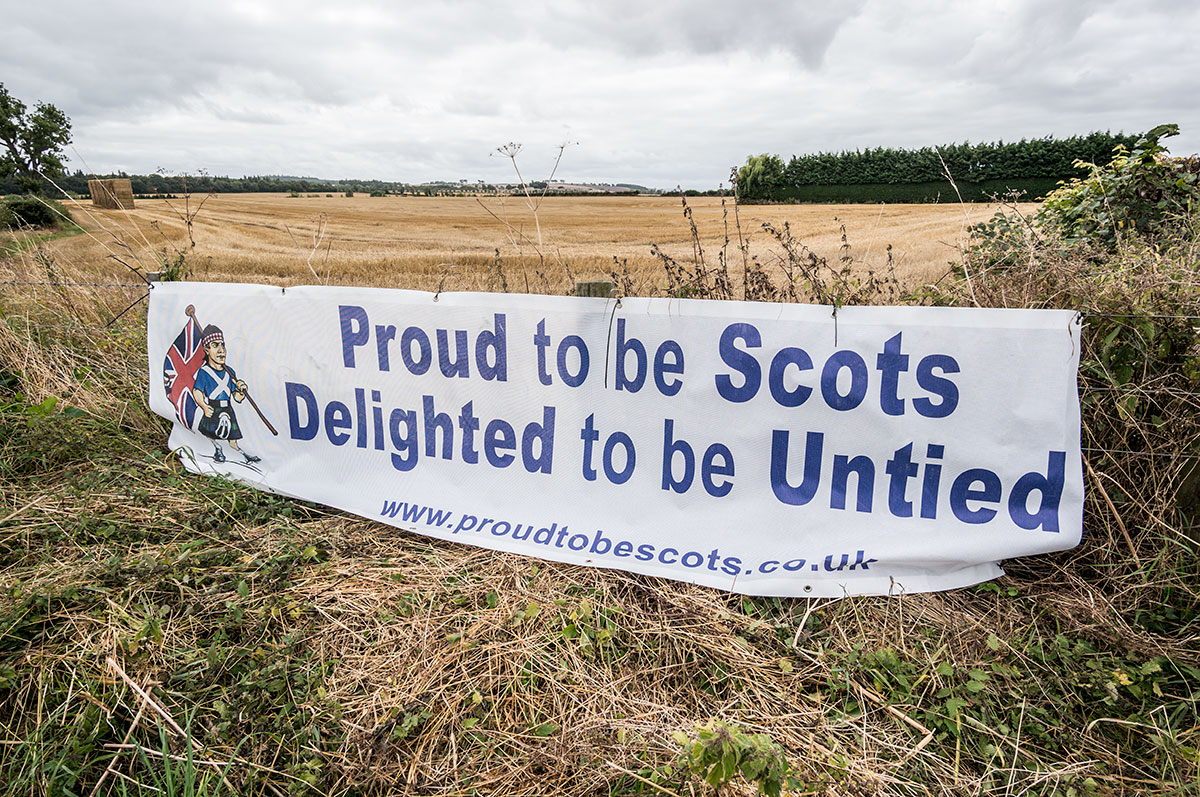 We shall see, on September 19th, what the outcome has been. I will be very disappointed if Scotland decides it can't face the future and an intimidated majority turns the nation's face to the wall to go back to sleep for a few more generations, while her 'partner' in the UK sneaks out of the marital bed to fight, gamble and put itself about as usual.
– David Kilpatrick